HICARE launches its revolutionary TERMIN-8 treatment for  termite control
by Suman Gupta
HICARE, India's only HACCP Certified Pest Control Service Provider is proud to announce its TERMIN-8 treatment, a DRILL-FILL-SEAL technique to eradicate termites completely. The Termites can do great damage to unprotected buildings and other wooden structures due to their wood-eating habits. The main cause of worry with the termites is the fact that they are concealed in locations that go undetected destroying the structure internally leaving only a thin layer of protection from the outside environment. Because of their quite presence it is very important to get a periodic check done once every few months.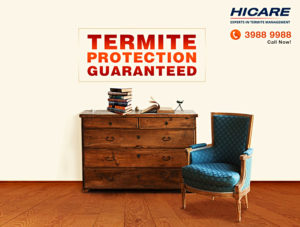 HICARE's TERMIN-8 treatment consists of drilling holes in the junction of the floor and wall, soaking them with termiticide and sealing them. When it comes to the woodwork, chemicals are used to kill termites and shield it from any further attacks. This technique basically creates a chemical barrier that can't be detected. This method doesn't repel termites but kills the existing termites while also protecting them from future termite infestation. As termite treatment specialist, Hicare is excited to utilize this new technology to better serve the termite control need while also making sure it's effortless. Only the best and specialized technicians in the industry use the latest technology and techniques to provide the TERMIN-8 treatments. It is totally inexpensive and more so absolutely safe for humans and pets providing an unparallel level of fulfillment and service to all their customers.
HICARE's TEMIN-8 treatment service is priced from Rs. 4400 onwards with a 10% discount if paid on their website www.hicare.in.
 About HICARE : HICARE since 2004, is India's leading provider for residential and commercial pest control for domestic pests, mosquitoes, termites, bird netting, professional home cleaning and commercial pest control service. We take pride in the fact that no one knows pests the way we do. HICARE is also a formidable player in the home hygiene space, providing professional home cleaning solution. Our trained technicians use only the latest technology and techniques. What's more, they are background verified so your home is in safe hands. With reach and strength in over 200 cities across India, HICARE network is unparalleled, when compared with its peers. HICARE's innovative approach and safe advanced technology enables long-lasting elimination of pests from home, or any commercial premises. HICARE is India's only HACCP Certified Pest Service Provider, with strict enforcement of company guidelines for pest control ensures all government regulations and licensing controls are adhered to. HICARE respects nature and life and offers complete safety for your entire family, children, elders and pets. With a dedicated 12×7 call center, HICARE is generally regarded the most easy to reach by its customers. Visit http://www.hicare.in  or call (city code) 39889988.