Museums, theatres, parks, hotels, restaurants … Explore Paris with the family
In every picturesque district, park or cultural venue in Paris, there is something for the whole family to enjoy. The city offers plenty of inspiring activities – many of which incorporate technology – for kids of all ages.
A FAMILY BREAK IN PARIS
ARRIVING IN PARIS WITH THE FAMILY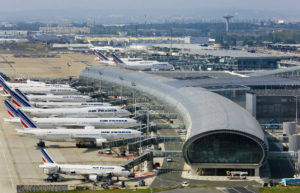 All the modes of transport for getting to the centre of Paris, from a train station or airport: by bus, metro, RER or taxi.
Paris is served by six train stations, all located in the city centre. From these, you can take a metro or one of the taxis parked in front of every station. If you are arriving by plane, then there are several ways of getting to the city centre. The Orlybus links Orly airport to Place Denfert-Rochereau in the south of Paris, in around 30 minutes (fare: €8.50). Orly-val, a special metro, transports travellers to Antony RER station; from here, RER line B takes travellers on to the city centre (fare Orly-Paris: €12.05/adult).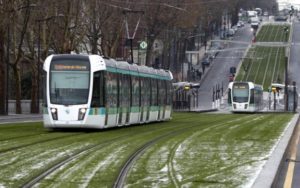 The T7 tramway takes passengers form Orly airport to Villejuif-Louis-Aragan station, on metro Line 7, in 45 minutes (fare: €1.90). From Roissy-Charles-De-Gaulle airport (Terminal 1), RER line B takes you to the city centre (Les Halles) in 30 minutes for €10. The Roissybus service takes travellers to the Opéra district in one hour (fare: €11.50). Le Bus Direct Paris Aéroport shuttles offer transfers from the airport to seven locations in central Paris, like the Gare de Lyon and the Palais des Congrès (one-way fare: from €12). Taxis are another option. The current minimum charge for transfers from Roissy-Charles-deGaulle to central Paris is €50, with a 15% surcharge for journeys at night, on Sundays and public holidays; and around €35 from Orly. Some cab companies (like G7) have set up a cab-sharing system to enable travellers to reduce the cost of a journey. Various private shuttle services can also be pre-booked at a fixed fare. According to the number of people travelling, you can book a people carrier, minivan or minibus with a number of transportation companies.
Paris Aéroport – www.parisaeroport.fr
Le Bus Direct (from and to Orly and Roissy-Charles-de-Gaulle-airports) –
Tel +33 (0)810 812 001 – www.lebusdirect.com
RATP – www.ratp.fr
SNCF (rail transport) – www.sncf.com
Taxiloc – www.taxiloc.com
Taxis G7 Partagés (booking required) – www.g7partage.com
Super Euro Shuttle – www.supereuroshuttle.com
www.uber.com
Family services at the airport and in Paris
Games, films, digital reading material, baby facilities and more: Paris Aéroport offers a whole range of free services.
There are areas and services designed especially for children: nurseries, pushchair hire and play areas to use while waiting for boarding to begin. The play areas are located close to bars. They have kid-size furniture, and give children from 4 to 10 years old a chance to enjoy cartoons and interactive touchscreen games featuring their favourite animated movie characters: Cars and Princesses (in Terminals 2nd and S4 at ParisCharles-de-Gaulle) as well as Toy Story, Ratatouille, Phineas and Ferb. At Orly Airport, there's a comfortable library stocked with books, magazines and tablets. There is also a multi-touch display of classic board games such as draughts, chess, Memory and Maze, plus jigsaw puzzles, to play or solve either solo or with the rest of the family.
Geeky kids can get their hands on a Playstation and test the latest games for free in the gaming zones. Retro-themed arcade machines provide a blast from the past, with arcade classics from the 1980s like Pacman and Space Invaders. Meanwhile, film buffs can head for a video lounge featuring HD screens and comfortable seating with in-built speakers to watch the latest movies while waiting for their flight to be announced.
And 2 kids 1 bag makes it easier for parents with small children to travel light by providing a variety of equipment for rent (pushchairs, car seats, travel beds, etc.).
2 kids 1 bag – www.2kids1bag.com
Using the bus, metro and tram
Fast and efficient, public transport in Paris takes you everywhere in the capital.
Paris has a comprehensive network of metro, bus and tram lines. Together they crisscross the 20 arrondissements, while the RER (Réseau express régional) suburban express trains serve the outlying areas. Not all stations and lines have escalators and lifts to facilitate access for pushchairs and disabled people. Transport is free for children aged under 4, while children aged 4 to 9 pay half fare. A metro or bus ticket costs €1.90 for a single ticket, but in most cases it is more cost-effective to buy un carnet, i.e. 10 tickets (€14.50). This 'Ticket T+' allows you to change buses, or change between a bus and a tram, in the course of your journey within a time period of 1hr30.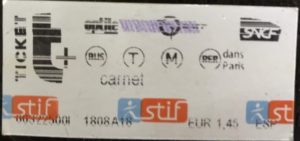 Note that tickets sold on a bus cost €2 each. On the metro, children enjoy taking the overhead lines 2 and 6 to watch the bustle of city life beneath, and also lines 1 and 14, which are fully automatic, driverless trains. Riding in the front car and watching through the panoramic glass windows as the tunnels whoosh past can be just as exciting as a fairground ride.
RATP – www.ratp.fr
Taxis and minivans for families
With people-carrier taxis and minivans, families can get around with ease
In Paris, regular saloon taxis are generally limited to three or four passengers. There are several solutions for large families. You can easily find large estate car or minivan type taxis in the streets, or you can order one from a taxi company. Private shuttle services are also available for getting around the city and the Paris region for a fare that can be arranged in advance.
ACCOMMODATION
At the hotel with kids
Child-friendly guest rooms and facilities, reduced rates for children … Parisian hotels know how to welcome families.
In Paris, some guest rooms have communicating doors, or even triple or four-bed rooms. Cots are also available, and if children sleep in the same room as their parents, they often benefit from special rates, and sometimes stay for free. This applies up to the age of 12. Chain hotels in particular are very family-friendly.
From furnished rentals to camping: alternative accommodation for visitors looking for independence.
A practical accommodation solution for families is renting a furnished apartment, a made-to-measure service offered by specialist agencies: you choose the district, the number of rooms, facilities for children, etc. An intermediary option is an aparthotel, which offers fully-equipped apartments where guests can do their own cooking. And fresh-air fans will enjoy staying on the campsite in the Bois de Boulogne on the outskirts of Paris, a stone's throw from the Jardin d'Acclimatation.
Aparthotels
Adagio City, Citadines Paris, Villa Daubenton, Residhome Prestige Paris-Opéra, Hotel Home Paris 16 etc.
Furnished rental accommodation
Appartement de ville, France Lodge Locations, Paris Attitude, Abbey Appart, Locaflat, 1000 et 1 Paris.com, etc.
Campsite
Camping Indigo at the Bois de Boulogne, 2 allée du Bord-de-l'Eau, Paris 16th – M° Porte-d'Auteuil
CULTURE FOR ALL THE FAMILY
Get a pass!
A combined 'transport and sightseeing' ticket is the smart, money-saving solution for a family day out.
Transport, museums, monuments, leisure … Passes and dual passes combining a journey with a visit are practical and economical. You can buy them in advance online, which leaves you all set to start your day of sightseeing – no queuing up at ticket desks.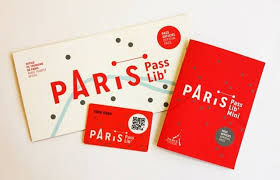 The Paris Convention and Visitors Bureau has designed the Paris Pass Lib'. This savvy pass not only saves you time, it also gives you discounts of up to 20% on transport, museums, cruises, etc.
For transport, the Paris Visite pass gives unlimited travel on the metro, RER, bus, tram and suburban trains (3 zones) for 1, 2, 3 or 5 days. It costs from €12.85 for the 1-day pass to €41 for the 5-day pass. There is a reduced rate for children aged 4 to 11. Paris Visite also entitles you to special rates at some attractions such as the Arc de Triomphe, the Tour Montparnasse and Disneyland Paris. And, if you're looking for a pass to visit Paris's numerous museums (and other places of interest), you can buy the Paris Museum Pass, valid for 2, 4 or 6 days, which gives you access to more than 60 museums and monuments in Paris and the Paris region (price: from €48).
Paris Pass Lib – http://reservation.parisinfo.com
Paris Museum Pass – – http://reservation.parisinfo.com
Paris Visite – http://reservation.parisinfo.com
Reductions and free admission
There is no reason for young people to miss out on culture, as they have free admission to national museums and monuments.
Young people aged under 18 are entitled to free admission at national (i.e. stateowned) monuments and museums such as the Louvre, the Musée du Moyen Âge, the
Château de Fontainebleau and the Musée d'Orsay. European Union nationals aged under
26 can also visit all national museums for free (though workshops and special events are paying). Some establishments, such as Paris Story, have 'family' tickets, while others, like Mer de Sable and Parc Astérix, offer discounts for large families.
FAMILY OUTINGS IN PARIS -CULTURAL ACTIVITIES
Museum visits with the children
Visits to the French capital's major museums, from the Louvre to the Quai Branly, can be both educational and entertaining.
Classic visits
Museums are increasingly child-friendly
A number of museums now have special trails, or paper, audio or digital guides for children.
Families get a warm welcome at Paris museums. Many major exhibitions include entertaining itineraries geared at children. Parents can browse museum websites to prepare an outing in advance, download an app on their smartphone, or borrow a tablet at the museum. At the Louvre, the biggest museum in Paris, children will be fascinated by the Egyptian mummies, and happy to see the world-famous Mona Lisa for themselves. At the Musée d'Orsay, they'll be surprised to see all the artworks in a former train station. They'll have fun recognizing lifelike wax figures of celebrities at the Musée Grévin museum, and relish a visit to Choco-Story, the chocolate museum. At the Musée de la Marine, the models and objects will have little boys imagining they're deck hands, frigate captains or pirates, while little girls will love the dolls at the Musée de la Poupée – or the other way round!
At National Museums, admission is free for under-18s.
Some museums, like the Louvre, provide visitors with pushchairs and baby carriers, as well as a cloakroom and baggage service.
Story-time visits and workshops:
From games and detective trails to workshops, Paris museums have all kinds of creative ways to entertain young visitors.
Numerous (paying) family workshops are offered at museums to arouse children's curiosity. They introduce kids to subjects like art and French history through enigma ames, storytelling tours and practical workshops. Muses & Musées devises cultural games that catch and keep the interest of young puzzle-solvers for various museums and sites. And Môm'Art makes Muséojeux bags filled with accessories and challenges to make any museum visit fun for the kids.
Top sights
The Eiffel Tower, Notre Dame Cathedral, the Arc de Triomphe: set off to visit Paris's major monuments!
The entire family will enjoy visiting Paris's famous monuments: starting, of course, with the Eiffel Tower. There are breath-taking views of the capital from every level.
Panoramic views can also be had from the terrace at the top of the Arc de Triomphe.
On Ile de la Cité, two majestic examples of Gothic architecture – Sainte-Chapelle and
Notre Dame Cathedral – take you back to the 13th century. In northern Paris, the Sacré-
Cœur basilica atop Montmartre hill looms over Paris. Aesthetes will marvel at the chandeliers, balconies and gilding at the Opéra Garnier, while sports fans will enjoy visiting Roland Garros and the Stade de France, home to legendary names in sport.
Contemporary art for grown-ups and kids
Contemporary art displayed outside museums, in the midst of the city.
Jean Tinguely's intriguing sculptures rub shoulders with Niki-de-Saint-Phalle's colourfulworks in the Stravinksy Fountain, near the Pompidou Centre. On the Left Bank, passersby stumble upon an open-air sculpture museum in the Jardin Tino Rossi, on the banks of the Seine. The Louvre pyramid and its fountains are to be found near to the Tuileries
Gardens, and also the Palais Royal, which has its share of contemporary sculpture:
Buren's famous columns, and the spherical ball fountain by Pol Bury. An even more spectacular sight is the Louis Vuitton Foundation, housed in a 'glass spaceship', which opened at the end of 2014 on the edges of the Bois de Boulogne. The Paul Ricard company's art foundation can be visited free of cost; this cultural venue has a packed event programme, hosting eight temporary exhibitions each year. And regular open days at artists' studios enable members of the public to actually watch artists at work.
Top in science
Experiments and spectacular images to understand the mysteries of our universe.
The Palais de la Découverte, the Cité des Sciences et de l'Industrie and the Musée des
Arts et Métiers are three good places to help you find the answers to questions about the mysteries of science. Within its Cité des Enfants, the Cité des Sciences offers young children a 1 800 m
2 space for learning and experiments. A permanent exhibition space welcomes children by age range, from 2 years (booking required). Exploradôme, on the edge of Paris, also helps to explain physical phenomena. At the Planetarium, you can  admire the wonders of the universe in the venue's star-studded sky. At the Géode, spectacular documentaries are shown on hemispherical screens in enhanced 3D. They are so realistic that dinosaurs and sharks seem to step out of the screen! The exhibitions at the Musée d'Art ludique explore the world of comics, mangas, animated films and video games. Young geeks will have a hard time tearing themselves away.
IT'S SHOWTIME!
Theatre, storytelling and concerts
Plays, acrobatics, music, stories and magic: children get a lot of pleasure out of the performing arts.
For tiny tots:
Performing arts programmes designed to stimulate children's imagination.
Actors and performers use all their artistic skills to stimulate children's imagination.
Shows are performed in French, but the words don't really matter; even tiny tots get caught up in the story and the characters on stage. For outdoor concerts appealing to young people, there's no prettier setting than a park, like the Parc Floral, at certain times of year. For puppet-show fans, there is the Théâtre de Guignol: a timeless and ever-popular classic. And magic shows are inevitably a big hit with kids. The shows at Double Fond are always riveting, while Antre Magique puts on magic shows specially tailored for the little ones (from 2 yrs).
Circus shows
In winter, circus big tops sprout like mushrooms all over the city.
Roll up for the circus! Children and adults crowd into the big top, take their seats and wait impatiently for the clowns, trapeze artists and acrobats on horseback to make their entrance. Different companies open at different times of year: from September/October for some, and January for others. Le Zèbre de Belleville is a circus with a difference. It hosts events called 'Z'ateliers' on weekends: face-painting, a how, refreshments and a go in the ring! And, on the other side of the 'péripherique' (ring road), you can admire superb displays of horsemanship in the equestrian art shows Bartabas puts on at the Théâtre Equestre Zingaro: well worth the trip.
Zoos, menageries and the likeMarine animals, wild animals and farm animals … see them all in Paris!
 Aquariums, zoos and farms:
Admire tropical fish, wild cats, monkeys and birds.
The Parc Zoologique de Paris, in the Bois de Vincennes, is the best place to see animals in a natural environment. The Jardin des Plantes menagerie, right in the heart of the capital, is one of the world's oldest zoos; it is home to orang-utans, big cats, red pandas, Arabian oryx, etc. Across the other side of the garden, in the Grande Galerie de l'Evolution of the Muséum d'histoire naturelle, there are realistic-looking dinosaurs, mammoths and other life-sized animals to discover. The museum has opened the Galerie des enfants, a permanent exhibition for 6 to 12-year-olds, based around four themes: the town, the river, the tropical forest and the planet at large. The Ferme de Paris, in the Bois de Vincennes, breeds farmyard animals like horses, cows, goats and pigs. And the Petite Ferme Normande at the Jardin d'Acclimatation is home to rare domestic species. The Grande Volière at the same park houses 200 birds. Dive into the peaceful world of fish at the Aquarium du Trocadéro, where 43 tanks host an infinite variety of species. And cat lovers will be thrilled to be able to pet their favourite animal at the Café des Chats or at the Chat Mallows Café, a restaurant and tea room where felines rule the roost.
In search of green spaces
Wildlife and plant reserves: a focus on biodiversity.
The Muséum national d'Histoire naturelle, with 8 million specimens, is the largest and oldest herbarium in the world, and a great tool for showing children the diversity and uses of flora. At the menagerie at the Jardin des Plantes, the genetic heritage of species is managed in order to preserve their power of adaptation to nature. Les Ateliers Villettes puts together workshops at which culture and nature intersect. Over at the Parc de Bercy, the Maison du Jardinage (House of Gardening) organizes gardening workshops and 'Green Fingers' meet-ups. And the Clos des Blancs-Manteaux organizes educational activities at the weekends to give children insights into plant biodiversity in the heart of the Marais.
THEME PARKS
Off you go to Disneyland, Parc Astérix, Mer de Sable, Aquaboulevard, Jardin d'acclimatation!
Attractions galore!
Theme parks: magical worlds for all tastes.
For great family entertainment, amusement parks in and around Paris offer various themes:
'Indomitable Gauls' at Parc Astérix, 'the magic of Disney' at Disneyland Paris, the 'Far West' at Mer de Sable and 'Giant steps' at France Miniature. Shows and parades often go on throughout the day. You can even stay in a hotel within these cartoon film settings. For chills and thrills with the family, knock on the door of the Manoir de Paris, a haunted house halfway between a museum and an amusement park. Escape games, which require problem-solving skills and teamwork, are not only for grown-ups.
There are escape rooms in Paris for children 8 years and older, with familiar themes such as the wizard school, Alice in Wonderland and the knights' dungeon. Rounding off the list of theme parks in the Paris region are the Ile de Robinson, the Playmobil Funpark, the
Laser Game, the Bowling Paris Front de Seine and La Tête dans les Nuages.
Jardin d'Acclimatation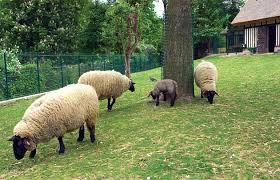 With animals, games, merry-go-rounds, workshops and shows, the Jardin d'Acclimatation is the perfect park for family outings.
The Jardin d'Acclimatation was opened in 1860 by Napoleon III at the same time as the
Bois de Boulogne. At that time, the park showcased luxuriant plants in its winter garden, and also some exotic animals. After the war of 1870, the garden moved in a more playful direction. However, it has sought to retain its educational focus, and organizes numerous workshops (arts, science, nature and cooking) throughout the year.
The Jardin d'Acclimatation offers a variety of attractions like a wooden climbing course and the Belvédère de l'Impératrice, a tree-lined promenade with views of the Eiffel
Tower – not to mention the Village des Manèges for all ages, play areas, pony rides, and the latest show. The Jardin d'Acclimatation still has a little train – now with an electric locomotive – that transports visitors from Porte Maillot. It is also synonymous with the 'enchanted river', a vestige from the attractions at the Universal Exhibition of 1926. An orienteering trail conceived by Muses & Musées takes adventurers through these places as far as the Korean garden. The 1hr30 trail includes 18 stages with riddles, clues, tests of observation and other challenges. The questions are targeted at children aged 5-8 and 8-12, on the fauna, flora, history and architecture of the park. Several educational workshops are also regularly organized here.
SPORTING ACTIVITIES
Swimming and ice skating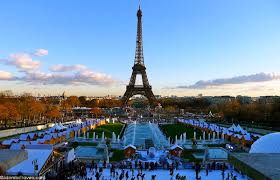 Swimming pools and ice-skating rinks are great places for kids to let off steam and have lots of fun.
During the winter, temporary ice-skating rinks are often set up inside the Champs- Élysées Christmas market, under the nave of the Grand Palais and at the Eiffel Tower.
But you can also take the whole family ice-skating all year round on the 800 m² rink at  the Pailleron sports area. There is also an ice rink at Accorhotels Arena; the theme parties organized here are very popular. To enjoy a beach atmosphere without the expense of a beach holiday, head to Aquaboulevard, a water park complete with wave swimming pools, a beach and palm trees. Paris also has 40-odd swimming pools, some with sun lounges, slides and jacuzzis.
All swimming pools and ice-skating rinks on www.paris.fr
Merry-go-rounds
Fancy a ride on a merry-go-round? Hop on a traditional Parisian carrousel.
Young children love merry-go-round rides. Try the merry-go-round at the Hôtel de Ville, or the Dodo carrousel at the Jardin des Plantes, where the carriages are in the shape of animals that are extinct or in danger of extinction. The Garnier merry-go-round at the Jardin du Luxembourg was built by the architect of the Palais Garnier Opera House.
With its suspended horses, it is a veritable museum piece. For the Christmas season, merry-go-rounds are set up in all districts of the capital, for free rides!
Cruises and circuits
Buses, boats, little trains, balloons and helicopters provide different views of Paris.
Coaches, boats, little trains and horse-drawn carriages
A sightseeing tour with commentary is an effortless way to explore Paris.
Sit back on the upper deck of an open-top bus and listen to informative commentary as you watch the sights of Paris go past: what could be a more pleasant way to explore the city? The sightseeing tours offered by Open Tour and Big Bus take in the city's marvellous heritage, with commentary in several languages. Practical and fun, the Batobus shuttle boats transport passengers along the river, between the Pont Austerlitz and the Port de La Bourdonnais, slowly revealing all the monuments from the water: the Louvre, Notre-Dame Cathedral, Invalides … Nine stops enable you to get on and off as you please. The 'Pass Chasse au Trésor' (treasure hunt pass) adds a touch of excitement to your journey along the water. To have a meal aboard a boat, there are brunches and dinner cruises, with Paris en Scène for example. And why not combine relaxation and education with the Bateaux Parisiens? During the Croisière Promenade aboard a trimaran, children play a special quiz game called 'La Seine et ses secrets'.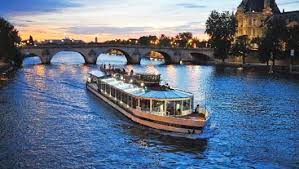 And on the Croisière Enchantée, two little imps, Lila and Philou, recount the wonderful history of Paris through songs and anecdotes. Children also like to climb aboard the
Petit Train de Montmartre: white carriages pulled by a locomotive travel along the narrow streets of the Butte, passing little shops, pretty houses, and artists in front of their easels. And then there's Another Paris with its little blue train, offering 5 different themed routes for a fun way to see the city. A ride through the centre of Paris in a horse-drawn carriage will also give you unforgettable memories.
In the air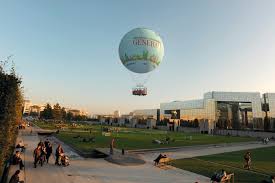 If you have a head for heights, tethered balloons and helicopter rides are a great way to admire Paris and the surrounding region from the air.
To see Paris from above, take a trip in the tethered air balloon in André-Citroën park, or the Panora Magique air balloon at Disney®
Village. This form of transport is environmentally-friendly and silent, and uses no more energy than a lift. Helicopter tours of Paris are even more unusual, and offer breath-taking views.
Around Paris
Châteaux and 'living' museums: days out with lots to discover.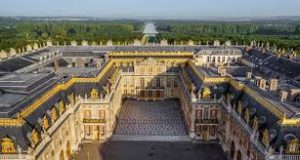 The Ile-de-France (Paris region) is full of chateaux, unusual museums and monuments: a wide variety of wonderful excursions to make during your stay in Paris. Versailles is a must-see; it still echoes with the splendour of the Sun King's court. The Château de Fontainebleau, a little further away from Paris proper, has audio guides for children.
You can also see animals in zoos and safari parks in the region.
Health and beauty
Children now have their very own line of beauty and skincare products!
A shop selling beauty, health and skincare just for kids (0-12 years): every little girl's dream come true. Quirky and organic products, accessories, and makeup that can be washed off with water, plus a wide range of those temporary tattoos that all kids love.
At a tourist attraction
Round off your visit to a cultural venue with a gourmet snack.
Visiting a museum is hungry work! Most Paris museums have a café or restaurant: a feature most visitors appreciate. Whether sumptuous, modern or bucolic, the decor at these places is usually in keeping with the museum to which they are attached. At the restaurant Les Ombres at the Musée du Quai Branly, diners have a stunning view of the Eiffel Tower and rooftops of Paris.
On the river or at the waterside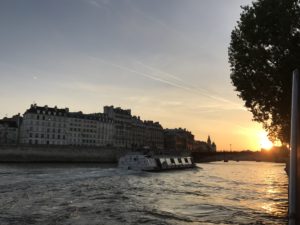 Why not take your family out for a meal on or along the Seine?
Having lunch or dinner on the Seine is an enjoyable experience for the whole family. Children are happy to be on the water, and everyone will be thrilled by the views of
Paris's fine monuments as they cruise along. Of course, you can also opt for a restaurant on the quayside. The River Café and Polpo just on the outskirts of Paris combine good food, lovely views of the Seine and festive entertainment for children at the weekend. Or you could hire a little electric boat from the company Marin d'Eau Douce and have a picnic on board, on the La Villette canal basin – an unusual experience in the city.
More information on www.parisinfo.com