MSE and GMEX Group of London enter into a Joint collaboration to deliver innovative products for existing and new trading segments in Indian Capital Market
by Suman Gupta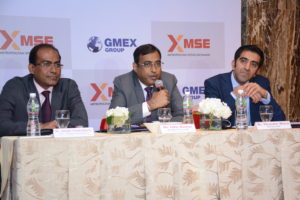 Mumbai, May, 2017: Metropolitan Stock Exchange of India Limited (MSE), the third national level stock exchange, today announced it has agreed to collaborate with GMEX Group (GMEX) of London, provider of multi-asset exchange trading and post trade technology, and business solutions.
MSE is developing innovative products in existing market segments as well as launching new trading segments. It is also expanding the eco-system and encouraging greater participation from market participants. Technology and product innovation are cornerstones of the future plans of MSE.
GMEX uses its extensive market infrastructure experience and expertise to create strategic master plans with exchanges, clearing houses, depositories, registries and warehouse receipt platforms. GMEX also has unique global experience in the introduction of new exchange traded products.
This collaboration will develop high impact initiatives in Indian capital markets including
Product development in existing segments and launching new product categories
Increased focus on technological innovations
Market infrastructure development for new products and Project Finance
To add strategic depth to the relationship, the proposal envisages a potential equity investment by GMEX in MSE and its subsidiary, Metropolitan Clearing Corporation of India Limited.
Mr. Udai Kumar, MD & CEO at MSE commented, "This collaboration will support the MSE strategy and vision of delivering innovation in products and technology. The new products will enable our key objectives to deepen and widen our capital markets and address the growing needs of the economy. GMEX brings proven global expertise and we are excited about the benefits from this collaboration".
Mr. Hirander Misra, Chairman & CEO at GMEX stated "We are pleased to be working in this key industry initiative with the MSE's Board and Executive Management Team who we find extremely forward thinking." He added, "This approach, combined with the advanced business and technology enablement that we bring to the MSE and MCCIL, will facilitate new strategic opportunities not only within India but also internationally."
About Metropolitan Stock Exchange of India Limited: Metropolitan Stock Exchange of India (MSE) is a SEBI-recognized stock exchange with licenses to operate in currency, interest rate & equity derivatives, equity cash, ETFs and debt. Its shareholders include India's top public and private sector banks and domestic financial institutions, besides eminent shareholders like Rakesh Jhunjhunwala, Radhakishan Damani and Nemish S. Shah.
MSE boasts of a Board of Directors with eminent personalities and a professional management to steer the company to its growth potential. The current management team at MSE is executing an ambitious business plan which has the backing of its Board and key shareholders. For more information visit https://www.msei.in/ or follow us on Twitter @msei_ltd
About GMEX Group Limited: GMEX has its registered office at 18 King William Street London, EC4N 7BP with company registration number 08090095. GMEX Group represents a set of companies that offer sustainable and innovative solutions for a new era of global financial markets providing business expertise, the latest technology, connectivity & operational excellence delivered through an aligned partnership driven approach. GMEX Group has operations in ten countries and is actively engaged in developing the capital markets in these countries across multiple asset classes including equities, debt, FX, derivatives and commodities. GMEX Investments enables selective seed and early stage strategic investments into market infrastructure and related FinTech companies.
GMEX Group is a set of companies that offer sustainable and innovative solutions for a new era of global financial markets. Providing business expertise, the latest technology, connectivity & operational excellence         delivered through an aligned partnership driven approach.  GMEX uses its extensive market infrastructure experience and expertise to create an appropriate strategic master plan with exchanges, clearing houses, depositories, registries and warehouse receipt platforms. For more information visit www.GMEX-Group.com or follow us on Twitter @GMEX_Group