by Suman Gupta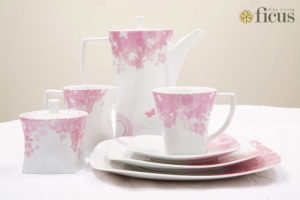 Ficus Fine Living, specialized in providing luxurious furniture and home décor, have introduced an assortment of Porcelain crockery. The latest collection has a range of crockery ranging from tea and coffee mugs and saucers to dainty snack plates and dip dishes, all artistically designed in soft Scandinavian colours.
Ficus Fine Living that has always been known for its products' exclusiveness and its astute aesthetic sense proudly presents its latest Crockery Collection. The Classic dinner set in the collection features contemporary designs and it complements any occasion with a touch of elegancy. The mix and match collection has beautiful European Chickadee birds, black birds and robins are crafted with sophistication. The Crockery Collection comprises of Tea Cups and Saucers, Coffee Mugs, dainty snack plates with dip dishes The Crockery Collection from Ficus Fine Living will definitely ensure that your guest's and you truly Dine in Style and Opulence
weddings, or even a corporate event, porcelain crockery collection is much treasured. Dove grey, sky blue, aquamarine and soft lime green present a more modern feel and mixed crockery colors display antique style. Our exclusive collection is the perfect blend of elegance with practicality."Speaking of the Crockery, Charu Tewari, CEO, Ficus Fine Living says, "Whether it is tea party, garden soiree,
The big coffee mugs and lovely set of six tea mugs make great gifts in pairs or singles. Add stylish crockery to dine exclusively available at www.ficusliving.com
About Ficus – Fine Living: 
Ficus – Fine Living is a fresh new concept in branded furniture and home accessories. Inspired by nature Ficus offers range of furniture, furnishings, home decors, artifacts and more. Ficus keeps introducing new styles and product lines by keeping an eye on global trends to ensure that the brand experience of customers stay fresh and vibrant. Ficus Flagship store is located in Byculla, Mumbai, The New Great Eastern Mills. It also has its presence in Colaba and Vikhroli. We are certain to create a buzz on the Global platform. We are looking forward to launch stores in Delhi, Surat and Ahemdabad.