by Suman  Gupta
Mumbai , May 201
7_The Sixth Sense Horror Film Festival, by Resources Go Beyond is scheduled to be held from 18th to 20th May 2017 at YB Chauhan and Ravindra Natya Mandir in Mumbai. The three day short film festival is a platform which enables to liaise with established and upcoming filmmakers dedicated to the horror genre
The festival will showcase various short horror films. Here are the Top 5 handpicked must watch short horror films at The Sixth Sense Horror Film Festival.
"Monster", directed by Steve Desmond, the movie talks about a character "Jenn" who lives in an underground bunker with her family, protected from the monsters that now ravage the world. The story is about that one day where she steps outside. The movie was officially selected in, scream Fest Horror Film Festival LA, Dead by down International Horror Film Festival, etc. It's also been awarded by Best Short Film Comic-Con International Independent Film Festival, Winner Fun SizeHorror Holiday Film Making Contest, Best Thriller # Toff The Online Film Festival, and many more.
"Solved", a film which is made of 11,000 still photographs, directed by Michael Bartolomeo, is about a lonely young man who dreams of becoming a Rubik's cube master, but his obsession soon turns deadly. The movie was officially selected in Crimson Screen 2017, Crypticon Seattle Horror Film Festival, BoneBat Comedy of Horrors Film Fest 2017. It's been awardedin the category of The Best Film Independent Horror Movie Awards.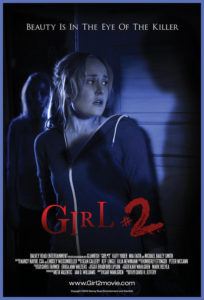 "Shah Mat", directed by Kirill Kripak, is about a battle amongst good and evil through a game. The movie was shot and edited in 48 minutes. Itwas selected for International Horror & Sci Fi Film Fest. It also won awards for Best Film, Best Direction, Best VFX in Dubai 48 Hour Film Fest, and Best Cinematography in 4th Emirates Film
"Tilly", directed by Rob Kotechi, is about a little girl and her father who discover a real monster in her room. It was officially selected at the Boston Independent film festival US and Brooklyn Horror Film Festival NY.
Girl#2, a horror comedy directed by David Jeffrey, is about a maniac who enters the house intending to kill the girls who are partying. The movie was officially selected for Nashville Film Festival, United States and Dance with Films LA.
Festival Dates – 18 th to 20 th of May 2017
Venue – 18 th and 19 th: Ravindra Natya Mandir
20 th – YB Chauhan
Entry – Free
To book a seat, call on: 8655380888