AVON engages with consumers through a Mall Activation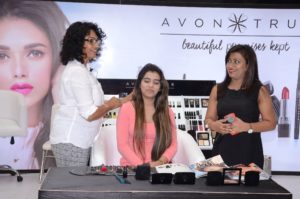 by Suman Gupta 
May 2017, Mumbai: AVON, the women's beauty brand bringing new dimensions to beauty has launched AVON True Look Book. The look book was launched by AVON India's celebrity make up expert, Renuka Pillai in Phoenix Market City, Kurla. who was also the guest of honor at the event.
During AVON True mall event, AVON engaged with consumers and ran exciting contests and gave free make overs. The brand created a setup to invite and pamper women and make them experience the AVON True range. The launch of the AVON True Look Book was amidst a special gathering of beauty experts and influencers who came together to celebrate beauty. They also participated in sessions conducted by Renuka Pillai on beauty make up tips and tricks. The look book featured the beautiful looks of women from different walks of life and included their views on the different facets of beauty and how it inspires them. The event was an initiative to provide women the platform to express themselves and make them feel special.
Commenting on the activity, Swati Jain, Marketing Director, AVON India said, "Avon follows the philosophy of Beauty for a Purpose and being a woman-centric brand, all our campaigns and initiatives revolve around making women feel confident and beautiful.  Through Avon True look book launch, we wanted to reach out to women from various strata and invited them to come and celebrate their beauty with AVON.  This activity is a testimony to our vision to make women feel optimistic and positive about themselves."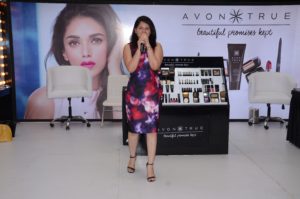 Renuka Pillai, Makeup Expert, AVON India on her association with AVON True Make Look book launch, "It feels great to be associated with an activity that is honoring beauty. Every face is beautiful and AVON respects it. The event is a novel approach to reach out and search for women who represents the AVON true women through the AVON True look book launch"
Quote from Priyanka Gill, Founder and CEO POPxo :
Beauty for me is happiness. It's reflected in someone who is confident in her skin. It shines in someone who laughs. Beauty for me is a state of mind. It's about comfort. About caring. Not only for others, but also for yourself. Being kind to yourself is beautiful. Beauty is whimsical. It's not boring.  Beauty lies in the tiny details. It's in what makes you smile. Happy women are the prettiest and Avon through its endeavours and products brings out the true beauty in women. The initiative to launch a Look Book, a compilation of such beautiful women is a novel idea and I wish them the best.
The AVON True mall event received phenomenal response from the influencers and the consumers as they all got a chance to experience the AVON products and learn quick beauty tips.
About Avon
Avon is the company that for 130 years has stood for beauty, innovation, optimism and, above all, for women. With 6 billion dollars in annual revenue, Avon Products are sold through 6 million active independent Avon Sales Representatives worldwide. Avon Products include color cosmetics, skincare, fragrance and fashion and home, featuring such well-recognized brand names as Avon Color, ANEW, Avon Care, Skin-So-Soft, and Advance Techniques. Learn more about Avon and its products at www.avoncompany.com.
Quote from Natasha Patel, Senior Beauty Blogger Miss Malini:
Beauty for me is more internal. As cliché as it sounds, it's in a person's smile, their eyes and just their soul being. While makeup allows one to express themselves; filtered or unfiltered, I truly believe that one needs to have fun with anything they do. Happiness is the best contour you can wear! It's really amazing how beautifully powerful women are. Avon's initiative is strong and I'm proud to be in an industry that recognizes just that. The idea to launch a look book is a beautiful initiative and I am really honoured to be a part of it.