by Suman Gupta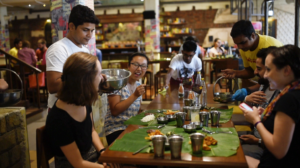 The Bombay Canteen 3rd (Annual) Independence Dawaat, This August 15 2017In
Support of Miracle Foundation India
Mumbai August 2017: This Independence Day, let's celebrate the joy of being Indian. And what better way than The Bombay Canteen3rd Annual Independence Day Dawaatto raise a toast to our amazing culinary heritage with an unforgettable meal for a cause. A feast of regional Indian specialties at our annual Independence Dawaat on August 15, 2017, only for lunch from 12 noon to 3:30 pm and this year's fundraiser is in support of Miracle Foundation India.  The Miracle Foundation India is a non-profit organization that brings life-changing care to orphaned children and helps them thrive in real time with a measurable, repeatable and systematic method to ensure that orphans are educated, fed, loved and safe. So block your calendar and make a plan with friends to celebrate all things Indian with a feast from around the country for a very noble cause. And since this lunch is also about celebrating freedom, we encourage you to pay what you like at the end of your meal. Remember, everything you donate, goes to the Miracle Foundation India for the incredible work they do to take care of orphaned children.
On the menu this year – a sumptuous meal of regional delicacies all served on a banana leaf in a community style dining experience. Its India on a platter with Chef Thomas Zacharias and his team putting together this feast inspired by dishes from across twelve states, including Mangalorean Chicken Curry, Punjabi Smoked Red Pumpkin Bharta, Lucknavi style Soy Kheema Mutter, Kashmiri Simla Mirch & Petha Korma, Kerela Mandeli Fry, seasonal vegetable pulao and much more. All this with a selection of unusual chutneys and accompaniments, served up with chilled Aam Panna from UP and delicious Maharashtrian TilGud Cake and Tiranga Barfi to round off the meal.
Sameer Seth, Founder & CEO, The Bombay Canteen said, "We are really excited to be supporting the Miracle Foundation through our 3rd Independence Day Daawat. The work they do to support orphaned children is inspiring. It has been amazing to learn about how they go about shaping the lives of these kids in a systematic and sustainable manner, and hope that through the Daawat more people learn about their fantastic work."
Caroline Boudreaux, Founder of Miracle Foundation said, "We are thrilled to be a part of the Independence Day Dawaat at the Bombay Canteen. The support we receive at this event will give children without parents all they need to thrive: Delicious and nutritious food, education, clean water, healthcare, safety and love. In partnership with the Bombay Canteen, we are empowering children to reach their full potential and become independent adults—as the country celebrates its independence."
Get your flags out, paint the city in tricolour, and swing by to celebrate all things Indian this Independence Day, with good food for a good cause!
Date: On August 15th, Tuesday 2017.
Independence Dawaat at Lunch only from 11.30am to 3:30pm.
First come, First Serve
You can also donate on: https://www.ketto.org/fundraiser/tbc
about Our Cause: Miracle Foundation India is a non-profit organization that brings life-changing care to the world of children without parental care in India. Our mission is simple. Miracle Foundation India stands for children without parental care and helps them thrive in real time. We've created a measurable, repeatable and systematic method to ensure that children without parental care are educated, fed, loved and safe. At the same time, we explore every avenue to reunite them with their parents or relatives, when possible. Our method:
Ensures organizations meet the 12 Rights of the Child and rise to international standards
Guides leaders to resettle children with a caring, responsible relative or family—and help them stay together
Transitions orphanages into Centers for Excellence where children thrive instead of reside
Started in 2011, the organization is dedicated to empowering children without parental care to reach their full potential. Today, we support thousands of children without parents, from the hinterlands of Maharashtra, Tamil Nadu, Karnataka, Telangana, Kerala and Madhya Pradesh to the far-flung areas of Tripura.
Our goal is for every child to live in a loving family; to become a healthy, happy, income-producing person—and experience a true sense of belonging.
Know more at: www.miraclefoundationindia.in