by Suman Gupta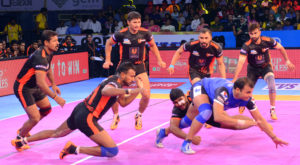 On the eve of their third encounter, U Mumba's captain cool speaks about the opponents – Dabang Delhi KC, the gap between games, the defence of his team and more. Transcript below:
On playing after a five day gap:
The gap is actually quite beneficial for the team. When you have such a competitive tournament, four-five days help the players to recover and strategise. We have used our days training and also trying out different combinations to find out which set works the best. The gap also helps in introspection and analysis of the previous matches, helping us to comeback stronger.
On being an effective defender:
It was certainly not a planned move, but when you are in a situation where you want to do the best for your team, you go by your intuition, it may mean that you try beyond your skill set and get that point. While many say it was more of a captain's decision that I tried ankle holds in the previous two encounters, I feel it is every player's will to win matches for their team, that makes them do that. Unfortunately our defence has not been the best over the last few games, while the first performance was below average, the second one was also perhaps only 50-60% of our potential, which prompted me to go beyond the usual moves, surprise the opponent. But like I mentioned,the defence is learning from every game and pretty soon we will be at our best.
On the Contest between U Mumba 's raiders and Dabang Delhi' s defence
 We cant really say it will be a contest between their defenders and our raiders – they have some very strong raiders in Meraj , who is a formidable all-rounder & Abolfazl Maghsodlou and our defence is also getting better with each passing day. I personally feel this is going to be a very well-fought contest between two teams of equal strengths.
On U Mumba's record against Dabang Delhi KC
Having a strong record against an opponent always helps in performing better, but it is never an excuse to take a team lightly. We have had a strong record against Delhi but it's a different team now and so we are not taking anything for granted. We will prepare to win and aim at maintaining a strong show against Delhi.